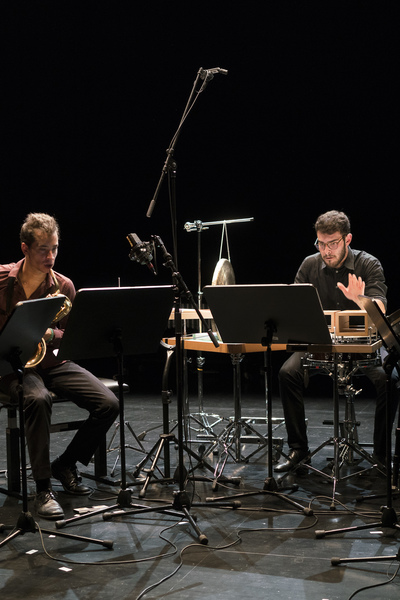 Fissure
Concept Store Quartet:
Alicja Pilarczyk, Violin
Pablo González Balaguer, Saxophone
Nejc Grm, Accordion
Guillem Serrano, Percussion
Programm:
Mike Svoboda - Growth
Anda Kryeziu - Strange Loops
Stylianos Dimou - Sur les traces de la fissure
Tobias Krebs - Schiefer
John Menoud - Ars Moriendi
The next project for the Concept Store Quartet, "Fissure," has been built around the Quartet's 2021 theme: anthropology. Placing human existence in the centre, we want to provoke a discussion about reality and non-reality, about struggle and values. "Fissure" is a thematic continuation of the preceding CSQ project, "An Anthropology of Supermodernity" (premiere 13 January 2021, Gare du Nord), which addresses the concept of non-place and virtuality of life. "Fissure" follows this program, exploring ideas of a twenty-first century in crisis. The final project of CSQ in 2021 will focus on human search for spirituality and basic needs.
We are very happy that Mike Svoboda accepted our invitation to write a new work, Growth, especially for this project. It will make an important statement in the program, which will also include a new piece by Anda Kryeziu as well as pieces by Stylianos Dimou, Tobias Krebs and John Menoud.
CSQ's mission is to reach out to audiences in and beyond Basel and create programs which address problems relevant to society as a whole. In this light, "Fissure," as a performance about fractures in life, is meant to provoke a discussion on the need of values such as connection, care, community.
Information
Kanonengasse 20
8004 Zürich
Zürich
Show map